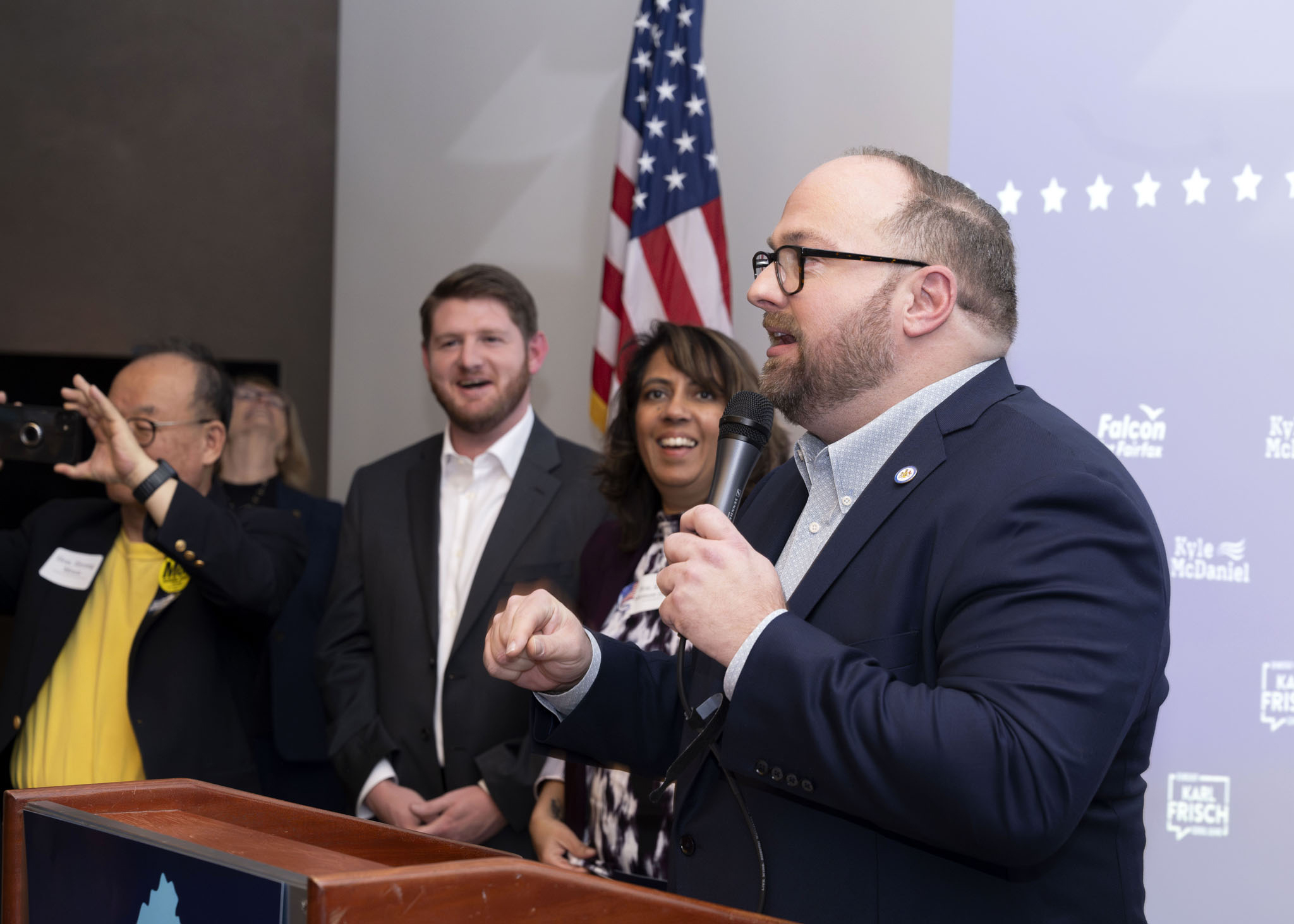 Board Remains Diverse like the Community It Serves – LGBTQ+ Membership Grows
FAIRFAX COUNTY, VA – Last night, Karl Frisch declared victory in his campaign for re-election to represent Providence District on the Fairfax County School Board (election results). Currently, the Board's Vice Chair, Frisch won by more than 30 points and received both a larger share of the vote and more total votes than he did in 2019 when he secured more votes than any School Board candidate in his district's history. With his re-election secured, Frisch will become School Board Chair on January 1, 2024. The 12-member Fairfax County School Board will remain entirely Democratic following last night's election.
"These results show people are fed up with the political attacks targeting our world-class public schools and teachers," said Vice Chair Frisch at the Fairfax County Democrats election night party in Tysons. "Fairfax County residents have made it clear: they want safe and inclusive schools with exceptional educators and equitable access to the opportunities every student needs to succeed. I am grateful to have earned voters' trust for another term and eager to advance these priorities with my new colleagues."
Frisch was among the largest funders of Democratic candidates for Fairfax County School Board in 2023, contributing more than $34,000 from his campaign coffers to their efforts. The investments paid off. Despite years of attacks from Richmond Republicans and well-funded dark money groups, failed recall campaigns, unsuccessful lawsuits to remove a Democratic candidate from the ballot, and the Republican opposition raising 75% more money in 2023 than in 2019, the 12-member Fairfax County School Board will remain entirely Democratic.
Results include the re-election of four members (Karl Frisch in Providence, Rachna Sizemore Heizer now in Braddock, Melanie Meren in Hunter Mill, and Ricardy Anderson in Mason), the return of two former members (Ryan McElveen and Ilryong Moon, both at-large), and the first-time wins of six others (Robyn Lady in Dranesville, Marcia St. John-Cunning in Franconia, Mateo Dunne in Mount Vernon, Sandy Anderson in Springfield, Seema Dixit in Sully, and Kyle McDaniel at-large).
The new Board remains diverse like the community it serves, with one Black member, one Hispanic member, two Indian American members, one Korean American member, three LGBTQ+ members, and three immigrant members. Additionally, women are the Board's majority, with seven members.
In 2019, Frisch became the first out LGBTQ+ person elected to local office in Virginia's largest county. He is currently one of only three out School Board members in Virginia. With their victories today, Lady will be Fairfax County's first out lesbian elected official, and McDaniel will be the first LGBTQ+ person elected countywide.