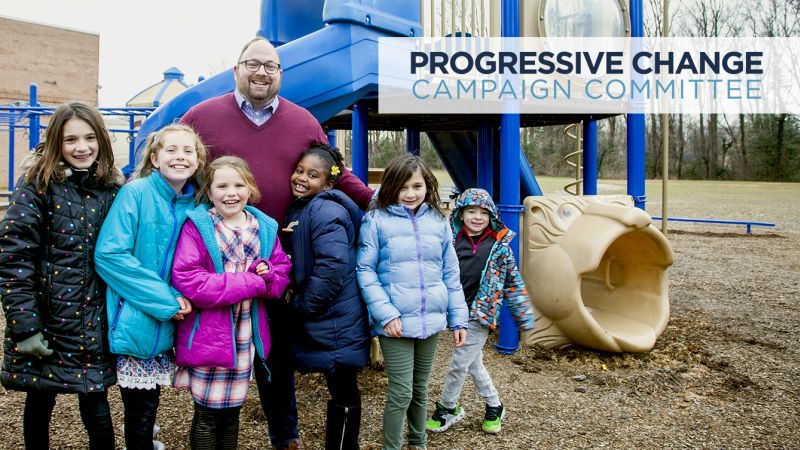 Endorsement from Major National Progressive Group Adds to Growing Momentum Behind Frisch's Campaign for Providence District School Board Seat
FAIRFAX, VA – Today, the Progressive Change Campaign Committee (PCCC) endorsed Karl Frisch in his campaign for Fairfax County School Board in Providence District, calling him a "bold progressive champion." With only one week to go until the Providence District Democratic Committee selects the Democratic candidate in this race, the PCCC's support adds to the growing momentum behind Frisch's campaign.
"Karl Frisch is a bold progressive champion who will fight for Providence District families on the Fairfax County School Board," said Stephanie Taylor, co-founder of the Progressive Change Campaign Committee. "He understands how important it is to make sure every student has an opportunity to succeed, no matter who they are, where they are from, or how much money their parents make."
"The Progressive Change Campaign Committee knows electing progressives on the local level is critically important – especially to the school board where decisions impacting families are made every day. I am honored to have their support in my campaign to make sure every student has access to great schools with amazing teachers," said Frisch.
The Progressive Change Campaign Committee (PCCC) is a million-member grassroots organization that builds power at the local, state, and federal levels by engaging in electoral work and issue advocacy with over 15,000 members in Virginia. Since its founding, the PCCC has raised over $29 million in grassroots donations for its electoral and advocacy work, and directly for progressive candidates and committees. In the pivotal 2017 state elections, the PCCC raised nearly $150,000 total from over 50,000 donations for down-ballot candidates in Virginia and New Jersey -- and worked hard to increase turnout up and down the ballot in swing districts by mobilizing voters around inspiring progressive candidates for state legislature.
MOMENTUM BUILDING
Yesterday, Karl's campaign announced it had raised an impressive $37,486.60 from 571 unique donors since it began fundraising on January 15. This followed Friday's news that he was endorsed by the Fairfax Education Association.
Since entering the race in January, Karl has also been endorsed by Chairman Sharon Bulova, Supervisor John Foust, Sen. Adam Ebbin, Del. David Bulova, Del. Mark Levine, Del. Mark Sickles, former Vermont governor Howard Dean, former Providence District Democratic Committee chair Paul Jameson, FCPS Pride, LGBTQ Victory Fund, CASA in Action, #VoteProChoice, and 90 for 90.
In March, Karl received 62% of the vote at the Fairfax County Democratic Committee's "Pick Your Pony Countywide Straw Poll."